A Closer Look
by Bernard Alain


A fusion of Artwork and Poetry
| | |
| --- | --- |
| Don Schaeffer is a Canadian residing in Winnipeg Manitoba, born in the Bronx, schooled at the City University of New York. His work as a poet is in the contemporary genre, mostly evidenced by the range of cultural praxis explored and use of free verse. Don's poetry is quite often identified by it's simplistic construction and psychographic nature of the text. | |

***I am self taught as an artist although I had a very good high school art teacher named Allen Evry who taught me an amazing amount and inspired and encouraged me. I was never mature enough to honor and thank him.
--Don

***quoted from a recent email reply from Don Schaeffer:




Of my favorites are his works where text is embedded directly into the canvass, an earthy mix of abstract expressionism and possibly art nouveau. A unique combination delivered in charcoal/pen, the soft textures often complimenting the sensitive human element found in his poetry. Don was schooled in psychology at the City University of New York but attributes his artistic success and influence to mentor Allen Every, a highschool teacher in Wheaton Maryland, U.S.A..

The following images are examples of some of Don's work, not to be confused with graffiti-like art or picture poetry, it is a concept of a more sophisticated nature where a more concrete notion has been embedded in an abstract image that elicits a similar feeling. I see much more potential on the horizon for this form of art and certainly Don's renderings are on the forefront, possibly adding more credibility to the fusion of artwork and poetry.



I hope you enjoy these renderings and send my thanks again to Don for allowing us to publish them in this edition of the review.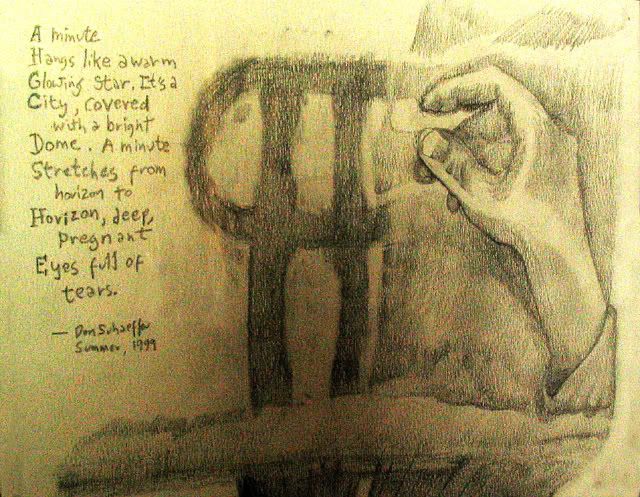 Text from
'A Minute'
by Don Schaeffer
A minute
Hangs like a warm
Glowing Star, It's a
City, covered
with a bright
Dome. A minute
Stretches from
horizon to
Horizon, deep,
pregnant
Eyes full of
tears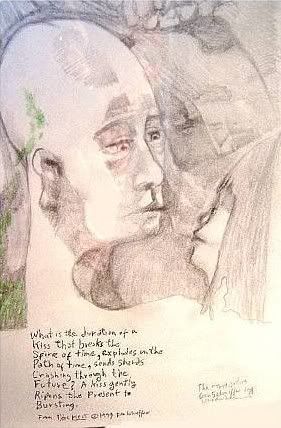 Text from
'A Kiss Poem'
by Don Schaeffer
What is the duration of
a kiss that bends the
path of time, sends shards
crashing through the
future? A kiss gently
ripens the present to
bursting.



Another unique offering by Don, the distorted edges and proportions in 'BACK PORCH' work well with the poetry.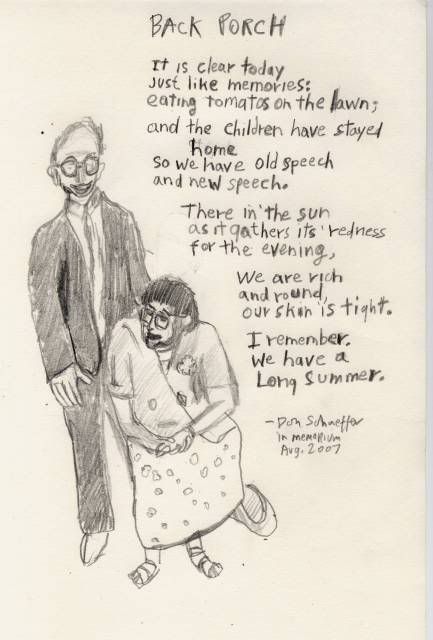 Text from 'BACK PORCH' by Don Schaeffer



It is clear today
just like memories:
eating tomatos on the lawn;

and the children have stayed
home
so we have old speech
and new speech.

There in the sun
as it gathers its' redness
for the evening,
we are rich
and round,
our skin is tight.

I remember.
We have a
Long summer.







more of Don's artwork can be viewed at
http://www.photoshow.com/watch/mZ2VC5CS

his poetry can be found at The Ink Blot
http://modernpoet.proboards98.com/index.cgi

publications at Enthalpy Press
http://members.shaw.ca/enthalpypress